Introduction to Video Marketing Tools 2020
In this article, you'll learn about the Best Video Marketing Tools 2020. As you read this post, you'll find the best video creation software, professional editing software and the best video marketing tools of 2020 available in the market. These Video Marketing Software will help you grow YouTube channel fast and get more views, subscribers and huge buyer traffic in just 30 days!
We've also uncovered the current Video Content Consumption & Digital Media Consumption stats during this ongoing COVID-19 crisis. These amazing stats will help you create the most effective video promotion strategy for your YouTube channel. This blog post is a real goldmine for video marketers and business owners. A must-read…
The Rise in Video Content Consumption
You may be aware of the increasing demand for video content over the years, and the year 2020 is no different! Specifically, during this COVID-19 Lockdown situation, there has been a huge jump in internet traffic.
As per the recent analysis done by Comscore about COVID-19 impact on Digital Media Consumption in India, total no. of visits to the internet have increased by almost 12% during this lockdown time.
As a result of the Coronavirus Lockdown, consumption of entertainment content has increased drastically. Most of the people are browsing entertainment sites like YouTube, Amazon Prime Video, Netflix and MX Player.
Here are the Top Entertainment Sites and Apps as per Comscore Analysis: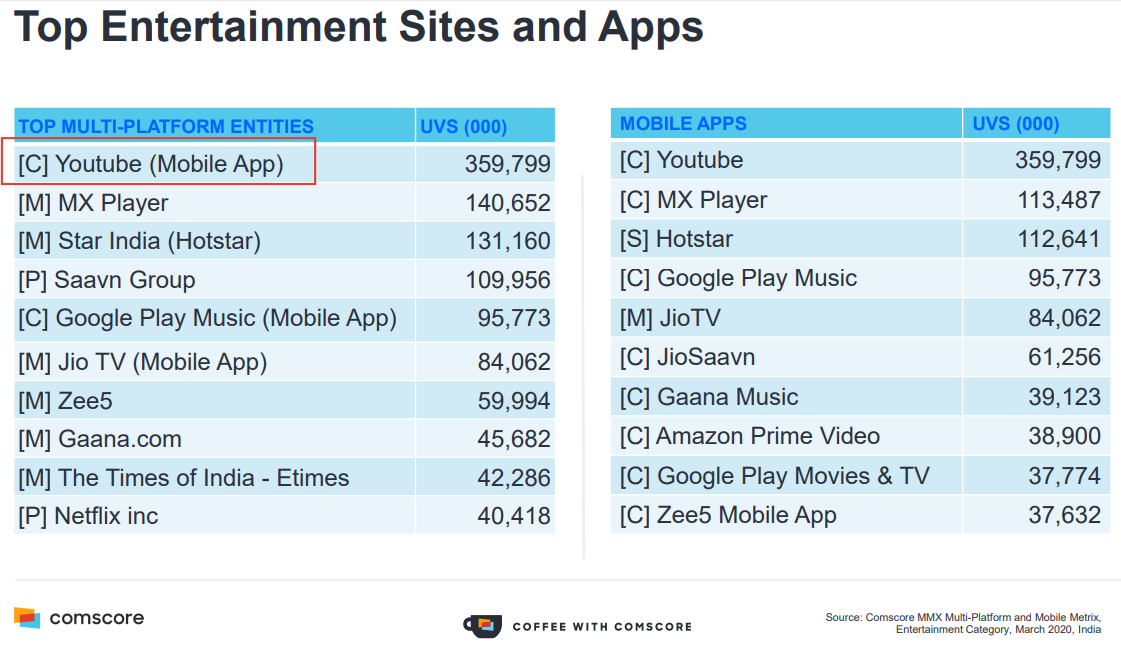 Even platforms like Facebook, Instagram, LinkedIn and Snapchat etc. are pushing more video content towards users than before.
These Stats Will Shock You!
Forbes says more than half a billion people access pre-recorded content on Facebook on a daily basis.
Over 45% of users engage video content in an hour on Facebook, YouTube and elsewhere – says Wordstream!
Video traffic will account for about 80% of internet traffics on the web within 4 years as per Forbes.
So, there is no doubt that videos will rule the digital marketing era in 2020 and beyond.
If you haven't already started using videos in your 2020 internet marketing plans, then this is the right time for you to invest in. 
But before you take any decision first evaluate the challenges.
The Big Challenges!
With the growing demand for video content, individuals, as well as brands, have begun creating it at a fast pace and even in bulk. But that has also augmented the competition and declined viewers' attention span.
Owing to the scenario, individual and businesses are looking to find ways to boost their views. They are literally looking for the best video editing software for YouTube or how to increase views or how to get 1000 subscribers and more.
Their intention is to either beat or sustain the competition and capture the attention of viewers.
The Big Challenges:
Rising Competition – More than 500+ hours of video content are being uploaded on YouTube every single minute.
Declining Attention Spans – You just have the initial 10 seconds to grab viewers' attention!
Successful Video Marketing Needs Time and Money –Creating studio-grade professional pre-recorded content is time-consuming and costly.
Video Editing and Marketing Software are Complex – Most of the video marketing tools are complex and hard to use.
Creating Videos in Multiple Languages is Challenging – Multi-lingual content creation is a costly and time-consuming affair.
Ranking Videos in Google and YouTube is Difficult – Video SEO is not everyone's cup of tea. It needs time, money and patience!
Running Video Ads is Costly – CPC is rising day by day with the rising competition.
Getting YouTube Views and Subscribers is a Big Deal – It has become very difficult to get 1000 YouTube subscribers and 4000 YouTube views.
The Easy Solution!
So, if you are looking to grow your YouTube Channel in 2020 and make money from videos, then you've to be really smart. 
Don't worry!
VMavericks team has come up with a list of 27 Best Video Marketing Tools of 2020. Our team has reviewed each video marketing software thoroughly mentioned in this article and then came up with the list. These powerful video creation, editing and marketing software will help you deal with all the challenges listed above.
Using these Video Marketing Tools you can:
Create engaging content in minutes.
Edit videos like a professional editor in just a few easy steps.
Beat the competition and steal their traffic by ranking your content in just 30 days!
Boost engagement instantly.
Drive huge buyer traffic without spending loads of money.
Make money from YouTube channel.
Make money by working as a 'Video Editor'
All set to start? Here are…
26  Best Video Marketing Tools 2020
1. iVidz
iVidz is a cloud-based software that will let people easily create interactive videos with a drag-and-drop interface. It's the EASIEST way to create an engaging video experience that will get people to ACTUALLY watch your videos.
Key Features
100% Newbie Friendly and the easiest-to-use fully interactive video platform on the market
Design Top-Converting Campaigns for any goal using videos you already have, or make in the future
Cloud-Based Interactive Platform Create, update & run interactive video campaigns from anywhere.
Visual Drag & Drop Campaign Creator takes all the guesswork out of making custom interactive videos!
High-Performance Video Player ensures your videos load & play blazingly fast across devices
Premium Video Hosting gives you full control. Share your interactive videos directly on your sites, pages & social profiles.
Rating – 4.9/5
Price – $27 (One-time)
Website – ividz.com
2. StopMotionSuite
StopMotionSuite is a revolutionary stop motion software. You can now create stunning Stop Motion Videos from templates and using drag-and-drop technology easily.
Key Features
No need to spend big cash on freelancers making stop motion anymore. You can get remarkable stop motion videos that can grab your niche's attention in a flash.
StopMotion Suite comes with DFY templates using which you can instantly create stop motion content for Facebook, TikTok, Instagram and YouTube.
Helps you customize your videos with an easy-to-use drag-and-drop editor.
This cloud-based app is loaded with thousands of graphics, CTAs, royalty-free audios and much more. Use it to make engaging stop motion animations.
You can add voiceover, custom audios to your work.
Assists you in turning any video into engaging stop motion content in just 3 steps!
Commercial rights are included – You can make money as 'Video Editor', start selling stop motion content.
Comes with 30-days money-back guarantee. So even if you are not satisfied with this stop motion software, you can ask for a refund.
Rating – 4.8/5
Price – $37 (One-time)
Website – stopmotionsuite.io
3. Vid Viral 2.0
Vid Viral 2.0 is a powerful video meme creator to garner unlimited free buyer traffic. You don't need to have any prior skills to start converting videos into viral memes.
Key Features
Turn any boring video into viral engaging one using VidViral meme creator in just 3 easy steps.
Add engaging elements to content such as headers, footers, emoji, icons, stickers, video filters and much more.
Add a variety of backgrounds, border frames, pictures to make your final product stand out.
Give a scarcity angle to such content using timeline bars, countdown timers, headers.
Add text to your videos in the language you prefer.
Apart from video memes, you can also create viral clickable images, GIFs.
Choose videos from multiple sources like Amazon S3, YouTube, Vimeo, and laptop and instantly turn them into viral engaging ones.
It's cloud software so no need to install anything on the laptop.
It comes with a 30-days money-back guarantee.
Rating – 4.7/5
Price – $47 (One-time)
Limited time offer – Get $20 off with discount coupon 'viral20'
Website –vidviral.in
4. Traffic Jeet 4
Traffic Jeet 4 is one of the best YouTube SEO software that can bring you tons of organic traffic. With this YouTube video SEO tool, you can outrank your competition and rank such content on YouTube as well as Google. Using this video search engine optimization app you can grow your YouTube channel for free.
Key Features
Helps you to spot market trends and traffic opportunities.
Lets you find the best opportunity keywords and low competition niches.
Copy your competitor's secret SEO strategies and rank YouTube content instantly.
Helps in stealing your competitor's subscribers and their traffic too.
Helps to turn your YouTube viewers into leads and subscribers.
Ensures that every video that you create is a traffic booster.
Rating – 4.8/5
Price – $37 (One-time)
Website –trafficjeet.com
5. LiveCaster 3
One of the best video marketing tools that can livecast any pre-recorded content on YouTube as well as on Facebook and get quick traffic boost. 
 Key Features
Helps you go live on YouTube and Facebook platforms using pre-recorded content.
Get instant traffic boost from Facebook and YouTube as live videos help in grabbing more eyeballs.
Possible to go live on the go or schedule it for the future.
No need to have any third-party app and is100% hands-free.
Live casting of multiple pre-recorded contents at a time is possible with this marketing tool.
Live videos help to rank in Google instantly.
Works with all formats and renders within minutes.
This software lets you add CTA and overlay text to live ones.
Get more fans and subscribers and outreach more people.
Rating – 4.5/5
Price – $37 (One-time)  
Website – livecaster.in
6. Viddyoze
Viddyoze is the brand new and updated video animation and live-action video creation software that creates super engaging studio-grade videos in just 3 clicks.
Key Features
Easy to use Video Animation and Live Action Videos creator tool.
Creates videos in just 3 clicks. 100% newbie-friendly.
Loaded with 250+ Done-For-You design and animation templates.
Comes with responsive square and vertical video templates suitable for Instagram, Facebook, YouTube etc.
It has integrations like Pixabay, Unsplash etc. Plus it has tons of media library of images which makes it a perfect tool for video creation.
New features include floating social animation, intros and outros for videos, compelling CTAs and End Cards, Movie filters and many more.
Plus, it comes with an advanced image editor, image background remover which enables you to create engaging thumbnails for your videos.
Audio tracks library which is free to use for your videos.
Rating – 4.9/5
Price – $47 (One-Time Price)
Website – www.viddyoze.com/go/join
7. VidiQ
VidIQ extension is a YouTube analytics tool. It assists you to learn how to get 1000 subscribers on YouTube for free. VidIQ also offers a video course on how to grow YouTube channel in 30 days. It is among the top video marketing tools 2020 that you can go for.
Key Features
Helps you maximize the organic reach of your videos.
This YouTube channel audit tool shows areas of improvement and helps you keep your channel in the best shape.
Lets you beat the competition by knowing what your competitors are employing to rank higher so that you can get more views and competitors.
Compare any playlist on YouTube to yours and know how your content doing in real-time.
With this browser extension, you can identify trending tags and topics. You can leverage it to create your own content and instantly rank videos on YouTube.
Provides video title and tags optimization and keyword suggestions which can help you improve the ranking.
Rating – 4.5/5
Price – $7.5 (Monthly)
Website – vidiq.com
8. Animoto
Animoto is an online video creation software for marketers, photographers, vloggers who are looking to make quality videos in no time. That's why it is on top of our list in the best video marketing tools 2020.
Key Features
You can create Slideshow, Promo, Social media or any video you wish to.
Loaded with dozens of built-in storyboard templates that you can use even to create marketing videos.
Limitless options for text fonts, stock photos, colours, and music that you may wish to add.
Adding a logo as a watermark on the video for enabling brand recognition is also possible.
Upload your videos, images and with easy drag and drop editor and create amazing content.
No need to install anything. All you work will be saved in the cloud-based app.
Rating – 4/5
Price – $33 (Monthly)
Website – animoto.com
9. Wideo
It is a tool to help you create highly-engaging and compelling animated videos and presentations that yield views and subscribers.
Key Features
The tool makes it easy for anyone to create a video.
Creation of marketing playlist made possible.
Lets you access professional results in a matter of minutes.
One-click sharing and downloading in MP4.
Comes with the feature of easy uploading of files or choosing from free video clips from the in-built library.
Creation of slideshow presentations possible – say no to boring PowerPoint slides and convert any video into a slideshow presentation in a single click.
Rating – 4/5
Price – $39 (Monthly)
Website – wideo.co
10. Filmora
It is one of the best video editors available in 2020. Filmora is a downloadable video editing software. It supports Mac OS as well as Microsoft OS. Users can also download their mobile video editing app FilmoraGo. You can use Filmora for YouTube and grow your channel.
Key Features
Comes with a powerful video editing interface and helps users to create an interactive playlist.
You can make the most of the tool to build highly engaging videos that will assist your brand in making a niche for itself in the market.
Filmora video editor comes with loads of features such as color effects, video play speed adjustment, transitions, video effects and many more enhancement features.
With the Filmora Pro version, you can get features like screen recording, video stabilization effects, audio noise reduction and much more.
This tool also has ready preset templates, unlimited audio tracks which you can use.
Add motion tracking effects, realistic camera movement effects to your clip.
Rating – 4.7/5
Price – $9.99 (Monthly)
Website – filmora.wondershare.com
11. Powtoon
It is one of the best online video maker tools of 2020 that can help you create engaging animated videos, professional presentations and much more.
Key Features
Enables you to create your free or paid studio-quality HD live and animated video within minutes.
Eliminates the expenditure of employing a Video Production Team.
Provides you with a vast library of professional scenes, props, templates, soundtracks, texts and limitless playlists and more.
Lets you create stunning pre-recorded content in no time using your own media uploads, GIFs, videos, voiceovers and images.
Easily publish your videos right from Powtoon platform as it offers integrations with YouTube, Twitter, HubSpot, Facebook, Wistia etc.
Using Powtoon, you can create whiteboard animation videos, images, PPTs, live-action videos and infographics.
Easy drag and drop editor makes it much easier to work with this online video maker.
Rating – 4.6/5
Price – $19 (Monthly)
Website – powtoon.com
12. Adobe Premiere Pro CC
Adobe Premiere Pro CC is a premium video editing software for web, film and TV. Many professional video editors use this software and make money as 'Video Editor.'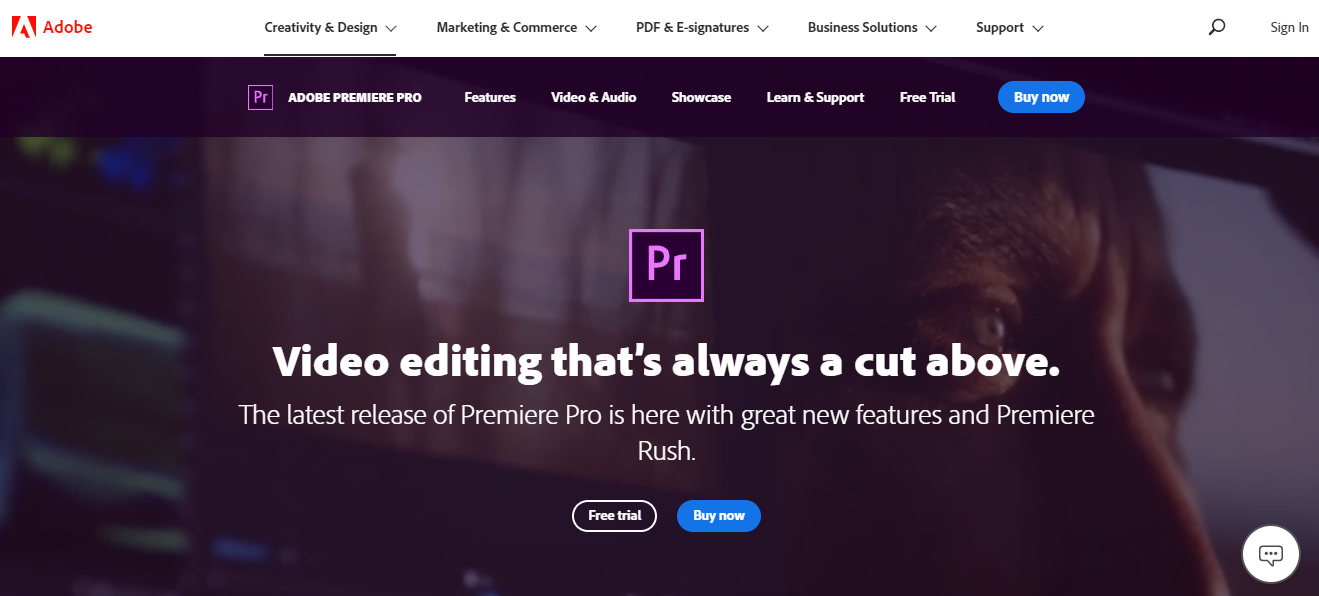 Key Features
Lets you save time and helping you focus on your story with automated tools and integrated workflows that can further enhance your work without leaving the timeline.
Helps you edit footage in any format – be it any camera, any format or any platform – it's all easy!
Works seamlessly with other services and apps such as Adobe Audition, Photoshop, Adobe Stock and After Effects.
Comes with Premiere Rush – an all-in-one app that can work on all devices – it means that you can take your editing platform anywhere.
Automatically resize your playlists to fit all social media platforms such as Facebook, Instagram, and YouTube.
Separate audio from video clips. Add new audio track to video footage.
Add engaging elements like text overlays, video animations, headers and footers, transition effects, green screen chroma key effect and much more.
Rating – 4.5/5
Price – $ 1,420 (Monthly)
Website – www.adobe.com/in/products/premiere.html
13. Kinemaster
Kinemaster is a professional mobile video creator that can help you transform your videos.
Key Features
You can trim and split video clips and layers where you want – audio clip timing is adjustable with sub-frame accuracy.
Comes with an instant review – watch your edits on how they will look the moment you create them.
Multi-track audio can put you in a studio mixing booth – you can play 8 and more audio tracks at the same time.
Equipped with Blending Modes to transform your videos into pieces of art. You can keep away white/black backgrounds, build double exposures and own custom colour filters.
Add text to your videos, insert engagement elements like emoji, header and footer text, video transitions etc.
Use green screen chrome key feature and change video background in minutes.
Rating – 4/5
Price – $ 4.99 (Monthly)
Website – kinemaster.com
14. Cyberlink Power Director
Cyberlink Power Director is among the best Windows video editor for YouTube so that you can take control of your video creation and edit in your hand.
Key Features
Adding customized shaped objects with keyframe controls and auto-fit text possible. Choose from a wide range of callouts and text bubbles in the Shape Designer – makes it just amazing for Instagram and YouTube videos.
Adding fantastic animated titles and motion graphics possible in your videos.
You can control how your title animations are seen on your videos with Title Reveal Mask.
Create content for social media as this tool can help you make videos in square output/vertical modes for social platform-based stories.
Rating – 4/5  
Price – $4.33 (Monthly)
Website – cyberlink.com/powerdirector
15. VideoScribe
VideoScribe is a whiteboard video creation software that is easy, instant and light on your pockets. Hence, creating animated explainer content will now be a hassle-free and fast affair.
Key Features
You can select images, include text, add voiceover and let the tool do the rest.
Let's you use tons of done for you templates, more than 190+ royalty-free soundtracks and much more.
The creation of captivating and brilliant content in minutes is possible with easy publishing and share option.
You may produce as many playlists as per your choice with a cost-effective tool.
Get support from a Team of professionals ready to help you should you face any issues.
Easier drag and drop functionality.
Rating – 3.9/5
Price – $17.50 (Monthly)
Website – videoscribe.co/en/
16. Apple iMovie
With Apple iMovie, you can turn your ordinary videos into movie magic. Do you want to browse clips and create Hollywood-style trailers and mind-blowing 4K movies? It's all possible with Apple iMovie.
Key Features
No matter if you are using iOS or a Mac device, you will find it easier to make it in movies. All that you need to do is select clips, add titles, effects and music with even 4K support.
You can select from dozens of studio-quality titles and animated titles and credits into your movies.
Enjoy special effects, high-fidelity filters, soundtracks and even create trailers for your movies.
Using this free video editor you can add a variety of effects like green screen, picture-in-picture, split-screen and much more.
Directly share our movie files to Vimeo, YouTube, Facebook, Email or export it to your own device.
Rating – 4.5/5
Price – Free
Website – Apple.com/in/imovie/
17. Wistia
Wistia is among the best video marketing tools 2020. It has been created to assist you in building real connections with your niches and grow your business.
Key Features
Hosting your videos on a platform that you control is easier – you can upload such content on this platform and get it embedded on your website.
Creation of mind-blowing and TV-quality experiences by showcasing your playlists in a format that is easier to start binge-watching on.
Grow your database and audience with reach and retargeting CRM integrations and capturing email addresses of subscribers and send notifications.
Optimization of video performance made easy.
Rating – 3.8/5    
Price – $99 (Monthly)
Website – wistia.com
18. Vidyard
Vidyard is an online video hosting solution for your business. Now creating, hosting and sharing videos can help you keep connected with customers and more with Vidyard.
Key Features
You can go for screen recording and video creation on Vidyard.
Ad-free hosting and video management made easy with Vidyard.
Upload videos, edit them fast with drag and drop functionality, share it across different channels like email, social media, website.
Create marketing presentation videos and personal introduction messages with ease and share it with your customers directly from Vidyard.
This video marketing tool helps to stay connected with employees who are working remotely, customers and remote teams.
It helps in high-quality streaming of videos for your target market.
Rating – 3.5/5
Price – $15 (Monthly)
Website – vidyard.com
19. Videoshop
Videoshop is a mobile video editing app available for Android and IOS phones. When you want to edit your videos on the go then Videoshop mobile app comes to rescue. You can instantly personalize your videos and share them with your friends and family using this free online video editor.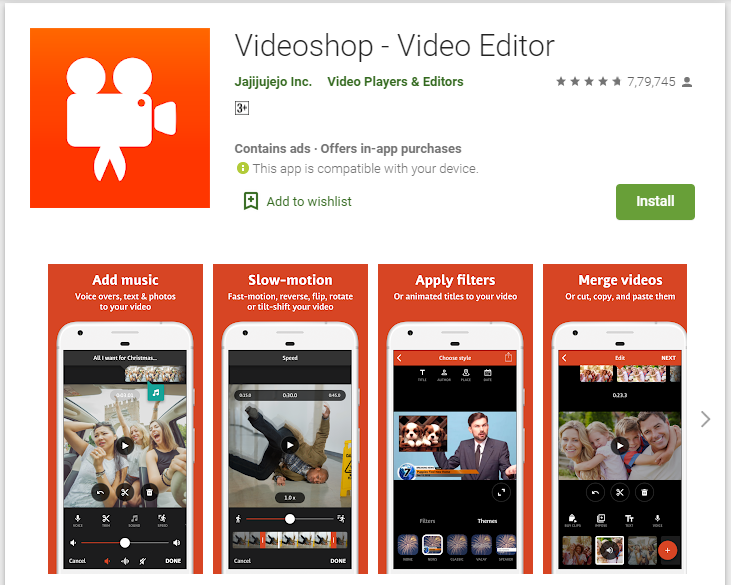 Key Features
Integrating your favourite songs or music to visual content using this mobile video editing app is possible.
Trimming of any unwanted video moments is possible.
Adding of effects like applause, farts, animal noises and more is available.
The adjustment of video speed to fast or slow with the slow-motion effect is available.
Merging of multiple clips into one available.
Add video transitions, animated titles, subtitles, filters and much more.
Sharing videos with your friends on Facebook, Email, YouTube, Instagram and Snapchat made easy.
Rating – 4/5
Price – Free
Website –videoshop.net
20. Promo
Promo is one of the best visual content creation platforms available. With Promo in action, you can revolutionize your business via video marketing in an affordable, fast and beautiful manner.
Key Features
You can find the remixing of photos, creation of movies, video production and creating photo collages and collections super easy.
Creation of photo galleries is available.
Making music videos, adding music and effects and creation of slideshows possible.
Apart from cloud-based software, it also comes in mobile apps for android and IOS devices.
Promo has a huge library of top-performing visual content templates.
You can also select high-quality templates/ images/ visuals from the huge library of Getty, Shutterstock via Promo.
Rating – 4/5
Price – $39 (Monthly)
Website – promo.com
21. WeVideo
WeVideo is an online video editor that everyone can make the most of no matter what your story is. You can use any story to enhance it further using WeVideo and beautify it.
Key Features
You can create a video like a pro, edit them with zero upload wait time. You have the choice of selecting from different formats and emerge differently unique on mobile displays, social media and web.
It offers unlimited 1 million pieces use of stock media such as music tracks, images, videos and much more.
You have the choice to create videos on any device, including Mac, mobile, Windows and Chromebook. You also have the freedom to edit your videos on mobile apps for iOS devices and Android on the go.
Rating – 4.5/5
Price – $4.99 (Monthly)
Website –wevideo.com
22. Movavi
Movavi is a video suite – a one-stop video maker, which is just perfect for distance learning and remote work. You can build videos, create screenshots, convert files, record tutorials and beyond. This is a downloadable video editing software.
Key Features
Work with multimedia anywhere and convert your home into an inspired studio with the correct multimedia program that suits you.
The capturing of the screen is available.
Edit videos, convert media into your preferred formats and even edit photos.
This tool also lets you create marketing presentations.
They also have android and IOS video editing app version so that you can make awesome visual content on the go right from your cellphones.
Rating – 4/5
Price – $35 (Monthly)
Website – movavi.com
23. DaVinci Resolve
DaVinci Resolve is the only solution that clubs 8K editing, visual effects, colour correction and audio post-production in a single software tool. It is the ultimate solution for VFX artists, Sound designers, Editors, Colorists and Assistants.
Key Features
Professional editing tools, 3D tools, colour correction tools and firelight of audio are possible.
Multi-user collaboration is possible.
High-performing playback engine.
Resolving Fx is possible.
Switching between effects to editing to colour to audio with a single click is possible.
Quick rendering and export are possible.
Its AI engine is laced with features like face recognition, speed warp, dual timeline, intelligent edit modes and many more.
Rating – 4.5/5
Price –   $299 onwards
Website – blackmagicdesign.com
24. Lightworks
Lightworks is a complete video creation package that lets your edit your visual content. The tool has been at the forefront of movie editing and used to edit many amazing films. With this tool in action, you can create and edit videos that may be pleasantly unique from others.
Key Features
Hassle-free and instinctive UI.
Easy and quick trimming and editing of the timeline.
Comes with a huge library of incredible audio and royalty-free video content.
You can export videos for Vimeo/YouTube SD and HD up to 4K resolution.
Wide file format support.
It's a downloadable professional video editing software suitable for Windows, Mac OS and Linux OS.
Rating – 4.5/5
Price – $24.99 (Monthly)
Website – lwks.com
25. Videolean
Videolean is a tool to help you create your own video online using a wide range of ready to use templates.
Key Features
Videos creation made affordable for individuals and brands with tight budgets.
Multiple formats to choose from.
Creation of video CV available.
Restaurant promotion, web/mobile apps showcasing, corporate video creation real estate properties and fashion photoshoots and more made super easy with built-in templates.
Nice for people/companies looking to increase their presence over the internet.
Rating – 4/5
Price – $39 (Monthly)
Website – videolean.com
26. Social Blade
Social Blade is a YouTube analytics tool which shows statistics of videos. Using Social Blade, you can get deeper insights into user growth and trends.
Key Features
Tracking of social media analytics and statistics possible.
Tracking of YouTube platform insights available.
Social Blade tool provides the user with crucial details related to Twitter, Dailymotion, Facebook, DLive and YouTube.
Lets you access deeper insights on the growth of users and trends for multiple purposes as per your needs.
With the help of the Social Blade tool, you can check how much money do YouTubers make.
You can do a competitive analysis of YouTube channels, Twitter handles, Instagram account and use the insights for your marketing gains.
Rating – 4.6/5
Price – $3.99 (Monthly)
Website – Socialblade.com
27. Clipchamp (Bonus Video Tool)
Clipchamp is one of the most revolutionary yet free online video editors that come equipped with pro specifications. The best thing about this video editing tool is that you can join 10 million people in 150+ countries. And yes, you don't need to have any prior editing experience at all.
Key Features
This video editor software comes with all features that will ever need to start creating professional-looking videos.
It helps you edit all sizes clips directly in-browser without bothering about irrelevant uploads.
It is loaded with ready-to-use and customized video templates that you can pick as per your niche and get started.
From adding titles to text to cropping to trimming and cutting, audio and image addition to colour and background balancing, you will get all in Clipchamp.
Rating – 4.8/5
Price – $9 (Monthly)
Website –Clipchamp.com/en/
Conclusion
You are now aware of the top 27 video marketing tools 2020 that can help you create, edit and promote videos and help you grow YouTube channel fast.
Start using any of the above mentioned best YouTube video marketing software. This way, you can optimize your content quickly and get ranked higher on YouTube and Google.
Let us know your views on 27 best video marketing tools blog post in the comments section.
If you need any help in YouTube promotion do reach out to us for our affordable Digital Marketing Services.